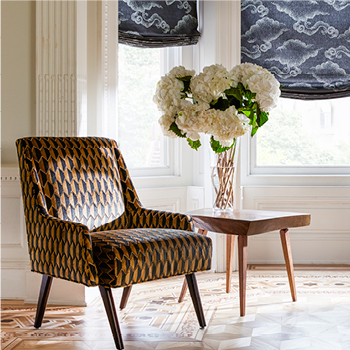 For over 80 years, Robert Allen and Duralee have been leaders in design excellence, serving the interior design and hospitality communities.
Founded in 1938, Robert Allen made their mark on the industry by pioneering the distribution of fabric books and being among the first to emphasize colour as a key tenet of interior design. Robert Allen's Colour Library has been a game-changer in the way the industry organizes and views fabrics, by emphasizing the importance of colour holistically.
Duralee fabrics launched in 1952 with an eye on value-driven ingenuity and cutting-edge products. With an alignment to budding and established designers, Duralee created licensed collections, quickly becoming known as one of the industry's most exciting fabric and furniture brands.
The obsession with colour can only be rivalled by their dedication to delivering quality fabrics with relevant yet timeless appeal. Designs are influenced by the worlds of fashion, design, architecture and even pop culture. The breadth of creativity is boundless in both pattern and innovative fabric construction.
In 2017, Robert Allen and Duralee merged their individual legacies by combining strength and innovation of the past into an unprecedented future. A powerhouse was born, standing as one of the largest companies in the industry.